---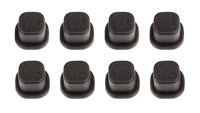 Team Associated RC10 B6 1/0.5 Arm Mount Inserts. Part# 92011
Team Associated RC10 B6 1/0.5 Arm Mount Inserts are a tuning option that allows suspension geometry settings that were not available with the previous inserts. The 1/0.5 inserts help "fill in the blanks" and give a 0.5 step option where you previously only could adjust things in 1.0 steps, 1.0-up or 1.0-corner, filling out the finer settings on the outer perimeter of the adjustment grid.
The design holds the hinge pin 1 degree (or 0.7mm) offset UP and 0.5 degree (or 0.35mm) offset IN or OUT. When turned sideways, racers can do 1 degree OUT and 0.5 degree UP or DOWN. 
There is a Type 1 and Type 2 cavity (hole locations must mirror each other) so you must watch when installing to keep them symmetrical. See the chart in the resources tab above for the master key, showing the options for how these inserts can be used.